Ouagadougou: 'A Chicken to Hug'
Durham Demo Version 2008 with this link:
Caedmon · Ouagoudougou Durham Demo 2008
It was a joy to play together again after 30 years in 2008 when we started to put together our second studio album, 'A Chicken to Hug'.
One of the first songs to come together was 'Ouagadougou'. I think it was because three of the band had had experience in African countries. And there was a particular interest in being broad in our approach to both content and styles. Simon had worked as a youth worker in Botswana in a mining town in the middle of nowhere. It was here that he met and started to play with Duncan Senyato, one of Botswana's best know singers at the time. Simon played mandolin with Duncan developing a hybrid hi-life riffing style. Jim spent time in Zimbabwe. And I worked on a millennium project which visited Burkina Faso.
The lyric reveals my insecurities about being alone in a big West African city as a naive white man. What a privilege I had to be able to come to such an exciting place with a brief to facilitate a sharing of music and ideas. But even though the whole project was done on a shoe string budget, it still seemed a paradox that we were seen as very rich, as we tried to achieve our aims on equal terms with our Burkinabe partners. As collaborators funded by Oxfam and other charities, we had to direct how the money was spent in such a venture, feeling a burden of responsibility for getting good value for all.
Also in the lyric is mention of Sankara, an assassinated president of Burkina Faso, who sold off the government Mercedes fleet and travelled about in a modest car, and was known for providing small grants to families to buy appropriate technology: e.g. motorbike or sewing machine. His powerful approach proved too much for the corrupt within his country.
Making Music on the Line.
I managed the millennium project with Folkworks, Oxfam and Channel 4 as partners. We contributed 'Making Music on the Line' as one strand of many 'On the Line' projects. Jon Snow had come with a realisation that countries that lay on the zero degrees meridian shared the same rising and setting of the sun and that we could celebrate the common arrival of the millennium together in a celebration of cultures.
Our Making Music project was to involve one musician and one musical educationalist from each of Shetland, Northumbria, Gascony, Catalunya and Burkina Faso.
I was asked by Folkworks to meet with / seek out collaborators in the five locations. I set off for a week in Ouagadougou on my own and the local Oxfam office put me in contact with Wamde, a drumming and dance group lead by Mama Kouyate. We worked up a way of working and she and Salif Ouedraogo, a young djembe player, became part of the band of ten musicians. I had a chance to see the Wamde group in action, the making of a djembe, shared food and a to visit to a site of granite sculptures carved in situ some miles from Ouagadougou.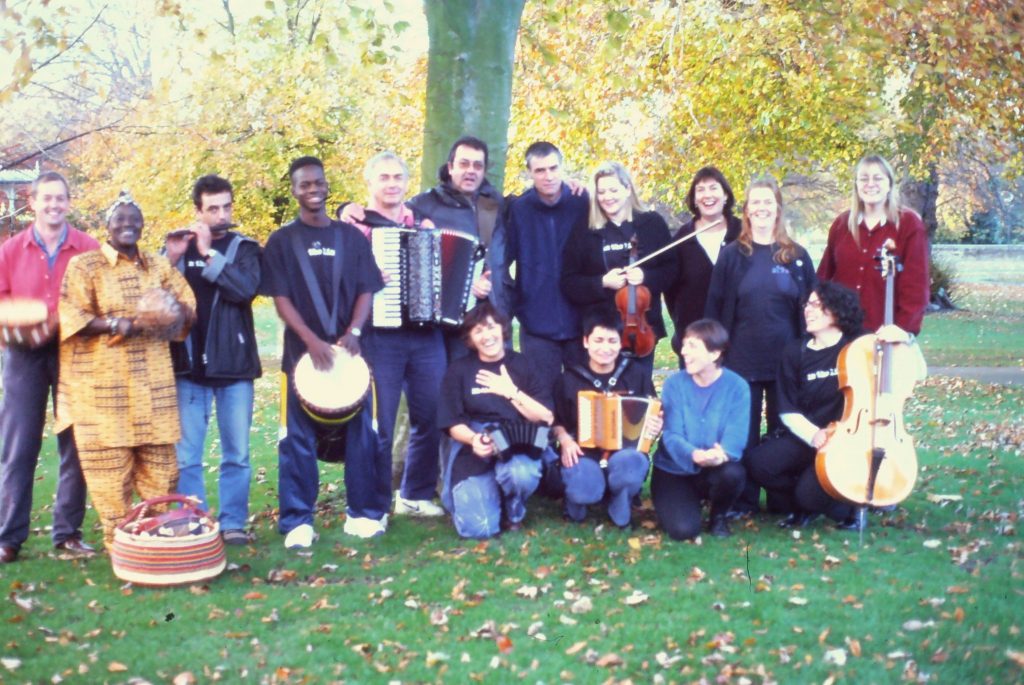 In the year of 2000 we spent six further weeks together in Shetland, Newcastle, Gascony in France and Barcelona touring with the other musicians. The first meeting was a week of sharing and learning each other's repertoire in Hexham, Northumberland. The musicians went back home to their patch and taught the repertoire to other teachers, who in turn shared the music with their pupils. Salif taught djembe skills to us all.
The band then toured each of the locations and mounted concerts where children met the musician, singing, playing and dancing with them. Mama and Salif were most popular in each venue, with show-stopping performances. A particularly strong memory is of Burkina teenagers dancing a Shetland reel outdoors as the sun started to fall, with red dust rising in the orange rays.
I subsequently bought a set of 25 djembes from Wamde, with my mate Richard Scott, and we workshopped with them or fifteen years or more, giving 1000s of youngsters a chance to play them and gain a hands-on experience of Burkinabe rhythms and calls.
After presenting many world music workshops, relating my story of contact with Burkina Faso, Cameroon, Tunisia and other cultures, I now feel happiest in tangling with my own Northumbrian traditions, closerto home as a priority.
Ken 2023